The Genesis Health and Fitness franchise network has welcomed Sudesh Mudaliar as the new owner of both Genesis Caulfield and Genesis Dandenong.
Mudaliar is a highly experienced executive, having worked in various management roles across various countries. He has also owned businesses in the hospitality and fitness industry in Australia and Asia. He said both Genesis sites offer exciting opportunities for growth.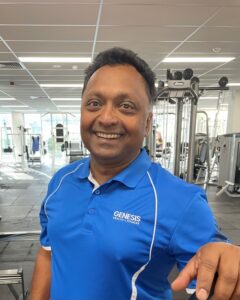 Mudaliar advises "Initially I was only interested in one site, but when two became available it was too good an opportunity to pass up.
"I am very excited about joining the Genesis network. I have worked with other franchises, the support structure that Genesis provides is second to none. I look forward to working with the team at Genesis. The depth of experience within the team is very comforting"
Previously, Mudaliar had worked with a different gym chain in the Philippines to open a site, but said he wanted to work with a locally based brand in Australia and liked the one stop wellness solution that Genesis provides.
"I feel very passionately about the growth potential and the health and wellness space resonates with me personally, I've always been a regular gym-goer.
"Now I've met and been working with the Genesis team, it has added to my confidence in the brand and reinforced my decision. I would never open a private gym due to the extensive support required to implement systems and procedures to run the business successfully."
Mudaliar also brings a solid business head and sales experience to the network and adds "Sales requires following a procedure and the fundamentals do not change across different markets. I recognise the importance of exceptional customer service, improving member engagement and the member experience will be a priority. I've learned a lot from various cultures and working in different environments."
Genesis Health + Fitness Chief Executive Ian Jensen-Muir welcomed Mudaliar to the Genesis family and said he was thrilled to see the two sites come under the ownership of someone with such extensive business knowledge.
Jensen-Muir advised "I'm sure Caulfield and Dandenong will thrive under Sudesh's ownership and the fact that someone so experienced recognises what Genesis has to offer is a credit to our brand and the team behind it."
For more information of Genesis Health + Fitness franchises visit:
https://www.genesisfitness.com.au/franchise-opportunities